What is
Park County Search & Rescue
WHO WE ARE
The Park County Search and Rescue Team (PCSAR) is an all volunteer, organization dedicated to aiding persons lost or injured in the back country of Park and neighboring counties. We are a 501(c)(3) non-profit corporation committed to serving Park County, Colorado in the many facets of wilderness emergency. We are dispatched by the Park County Sheriff's Office and respond to approximately 50 calls per year, ranging from overdue hikers to technical rescues to out-of-county assists.
Along with our primary focus on saving lives, we offer Wilderness Safety and Awareness education to the community through on site visits, Hug-a-Tree Presentations and our regular Tuesday night trainings in Bailey and Fairplay. These trainings are always open to the public and we welcome you to join us.

If you'd like to join our team, become involved, or request a non-emergency service provided by PCSAR, please feel free to contact us or attend one of our Tuesday night trainings.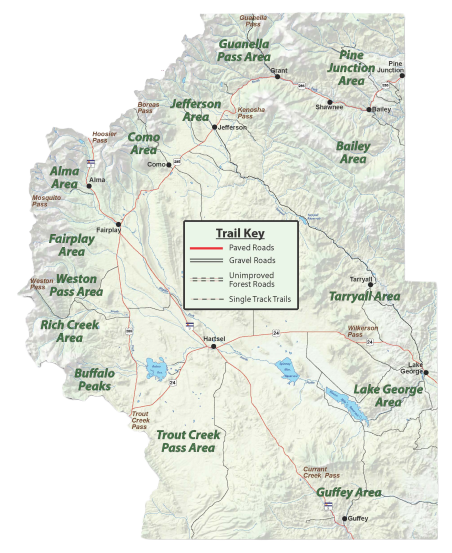 Park County encompasses about 2,200 square miles (larger than Delaware), and includes the geographic center of the State of Colorado. Elevations range from about 8,000' to 14,286', including Mounts Lincoln, Bross, Democrat and Sherman. About 80% of the county is public land, including parts of the Mount Evans, Lost Creek and Buffalo Peaks Wilderness Areas. The Colorado Trail traverses the county. Elevenmile Canyon and Tarryall are popular rock climbing areas within easy reach of Colorado Springs, and the Mount Lincoln Icefall is a popular ice climbing area. Fishing, hunting, ATVs, mountain biking and horseback riding compete with hikers and backpackers in the summer and fall, while snowmobiles compete with skiers and snowshoers in the winter.

Park County Search and Rescue provides the primary response in most of these areas.
OUR HISTORY
---
Park County Search and Rescue was formed in 1992 when a small group of interested individuals held an organizational meeting with the support of the sheriff. Only a very few of the original members had any search and rescue experience, and a slightly larger number had some recreational climbing experience. Almost all were experienced in the outdoors, and many were already volunteers on local fire departments and ambulance services. The original board of directors formed the core of the team for many years.
Starting with just a few members, the team became a pivotal force in the backcountry, helping to rescue many injured and lost parties high up on our four fourteeners, our many thirteeners, and across our 2,192 square miles of wild expanse. The county spreads out from Pine Junction in the northeast to Hoosier Pass in the northwest, Trout Creek Pass to the southwest, and slightly beyond Guffey to the southeast.
The core of active members, while ever-changing, has grown in numbers to about thirty well-trained volunteers, while the entire roster fluctuates between forty and fifty members.